Art House Students Win Awards at the Barber National Institute's Art Show & Sale!
Posted on April 16th, 2021 at 10:18 AM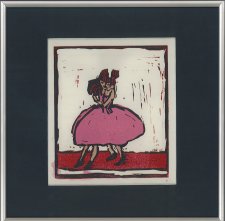 We have more good news from the Barber National Institute's Art Show & Sale! Art House students were the recipients of two Best of Show awards and an Honorable Mention in the youth artist division. This is a big honor! Congratulations to Tania Butler, age 11 and Teajanae Johnson, age 14 & Yeslian Vargas, age 13 for their Best of Show awards, and to Aiva Sadler, age 13 for her Honorable Mention. Tania worked with Sarah Everett on her winning reductive relief print last spring. This was her first print using this process, which an advanced printmaking technique whereby each color is printed individually using a registration system. Teajanae and Yeslian collaborated on their winning digital inkjet photograph, highlighting political issues in Lourdes Jasso's photography class. Aiva Sadler worked with Lourdes Jasso as well, highlighting issues of food insecurity in her digital inkjet print. We're proud of our student's winning entries!