Benedictine Sisters Honored with Diversity, Equity and Inclusion Award
Posted on December 6th, 2020 at 12:00 PM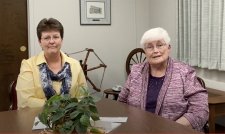 We're proud to announce that Erie Arts & Culture has selected the Benedictine Sisters of Erie as the recipients of their 2020 Diversity, Equity and Inclusion Award. The Sisters were selected for their work through the Saint Benedict Child Development Center and the Inner-City Neighborhood Art House.
The award recognizes and celebrates organizations or individuals that have embraced diversity and inclusion as part of their core values and are committed to producing programs or environments where all persons and perspectives are welcomed and valued.
You're invited to watch the award presented virtually through Erie Arts & Culture's End of the Year Variety show.