CONGRATULATIONS TO KELLY STOLAR: GOLDEN APPLE AWARD RECIPIENT
Posted on April 24th, 2019 at 11:15 AM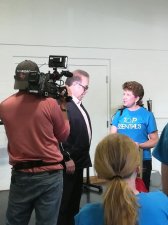 Not many organizations could boast that their Development Director won the Golden Apple Award, but the Neighborhood Art House can!
In addition to her many responsibilities at the Neighborhood Art House, Kelly teaches tap dancing at Sovereign Ballet and several other studios. Besides teaching the regular weekly lesson, Kelly volunteers to take some of her students to the New York City Dance Alliance Workshop/Competition in Buffalo, NY each year where they attend classes taught by guest artists from around the world and compete for scholarship awards. Her student DeZire Howard nominated her for this special award that is ordinarily given to K-12 classroom teachers. This is the first time it was ever given to a specialist in a different setting.
The Golden Apple Award was presented on April 22 by WJET/FOX TV and Edinboro University to recognize outstanding teachers in the Erie PA area. Kelly described her experience this way:
"A funny thing happened on the way to the..." studio today! I was nominated by my Tap student, DeZire Howard, for The Golden Apple Award, and much to my surprise I was the last recipient for the year. It was presented to me by Christina Maria Adelhardt (Sovereign Ballet) and Lou Baxter (JET24/FOX66, Dr. Mary Jo Melvin (Edinboro University), and many of my wonderful students! My daughter, Kaeli Anne, was behind the scenes making sure it all went off without a hitch, and my family even came to show their support!"
The coverage on WJET/Fox TV will air on Wednesday, May 8th, 6:00 pm.