Erie Insurance Provides Major Support
Posted on April 12th, 2019 at 12:00 AM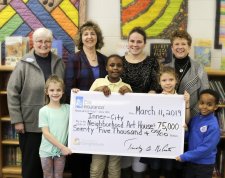 Erie Insurance, major funder for the Neighborhood Art House for 20+ years, has once again stepped forward to donate $85,000 in support of the visual arts program and our current visibility project.
The visual arts program includes classes in painting, drawing, printmaking, clay, mosaics, photography, air brush, chalk pastels, sewing and many other offerings. The $75,000 contributed through the PA EITC (Educational Improvement Tax Credits) provides for class materials and wages for teachers. Visual arts is the largest of the four areas taught at the Art House: visual arts, performing arts (music & dance), literary arts (creative writing, reading and tutoring), and environmental action.
The $10,000 grant the the Erie Insurance Foundation is in support of our current visibility project which includes the installation of a new electronic sign on 10th Street and the design and installation of new murals on both the Holland Street and 10th Street sides of the building. These will both identify the building, visually express our purpose and annunce upcoming events and enrollment periods.
We are sincerely grateful to Erie Insurance for their continued substantial support.