Learn About Art With Us!
Posted on February 9th, 2021 at 2:47 PM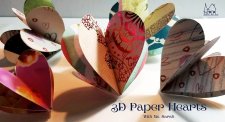 You're invited to be a part of our virtual classes for the spring semester! All of our recorded class videos have been uploaded to YouTube, with new lessons added weekly. Feel free to visit our YouTube channel and follow along with the lessons. You can learn about drawing, sculptured painting, winter-themed and Valentine's Day art projects. There's no age restriction! We'd love to see your finished work :).
Additional Photos