Taste of the Arts 2018 - Welcome to Our Circle
Posted on September 14th, 2018 at 5:37 PM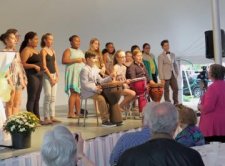 Welcome to our Circle sang the children just as they do every day before they begin their classes.
Upwards of three hundred Neighborhood Art House supporters joined the faculty and children to celebrate this year's Taste of the Arts. Many took advantage of the opportunity to mingle with the children who offered musical selections on piano or violin, described the various framed art pieces for sale, or demonstrated what they were learning in some of their classes.
Lisa Chinsky and Annalynn Shuttleworth, co-chairpersons, and the TOA planning committee had designed the evening to encourage interaction among children, faculty and guests as they explored what a day at the Art House might involve. Sabella's Catering provided four fabulous food stations each decorated to depict one of the Art House's curricular strands.
The stage program, expertly emceed by Sean Lafferty of WJET/FOX 66, featured several performances in dance and the premier showing of a new Neighborhood Art House Video that was produced, filmed and directed by volunteers from Erie Insurance: Ed Bernik, Creative Director; Amanda Lane, Producer; Jason Stewart, Camera; Jen Cassano, Graphics; and Mike Grimm, Editing.
One of the highlights of the evening was the live auction of a mirror framed in an arrangement of jewelry assembled by ten-year-old Raniyah Smith, this year's Featured Artist. Under the direction of her teacher, Mrs. Sharon Bannon, Raniyah had disassembled hundreds of pieces of costume jewelry, then selected and placed each one to form a unique piece worthy of any home.
Aside from student artwork for sale, the Art House received donations from local professional artists for the silent auction. Contributors included Jo Clark, Evan Everhart, Armando Reyes, Mary Hamilton, Vitus Kaiser, Eric Schwartz, Sam Ward, Becky Kathman, Mary Kay Geary, Barbara J. Hauck, and the recently deceased Bill Hess. This year, to the excitement of the bidders, four "experience packages" were part the silent auction; contributors included Culinary Therapy (Michelle Tobin), Annalynn Shuttleworth, Lisa Chinsky, Mary Kay Geary, Cali's West, and Anne Wessel
We are grateful to our major sponsors: Eriez Manufacturing; Humes Chrysler, Jeep, Dodge, Ram; Reed Manufacturing and the Erie Community Foundation, to all of our sponsors and to all those who made this, the 21st annual Taste of the Arts, possible.
Additional Photos