What's Happening While the Art House is Closed?
Posted on April 28th, 2020 at 2:09 PM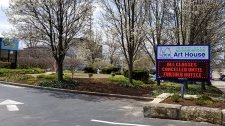 What are Art House employees doing during this unusual time? Many of us are researching, working remotely, learning new skills and getting set to come back with renewed energy! The Art House has graciously extended the offer to all teachers to spend time researching their own art forms or honing new skills. Music teachers have been sending music to students with instruments at home and video conferencing when possible. A few teachers are meeting with students via video chat, others are watching videos, listening to Podcasts, reading and getting ready for the next semester of classes. We're doing professional development and it's going to pay off with new and exciting projects and class offerings!