Classes Start
Posted on February 10th, 2021 at 2:09 PM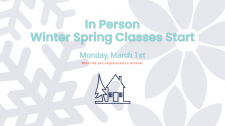 In Person Classes Start March 1st.
Your Child must be pre-registered to attend classes.
We are keeping with guidelines issued by the Erie County Health Department and the CDC by providing sufficient space for social distancing and proper wearing of masks is required.
Returning students don't forget your carpool sign! New students will receive a new one on their 1st day. Please check your email for announcements.Thank you for your understanding, flexibility, and patience during this time. We are doing this with the utmost care for your child's and our teacher's safety. If you have any questions please direct them to Lourdes Jasso at ljasso@neighborhoodarthouse.org .