Classes Start
Posted on December 16th, 2020 at 10:15 AM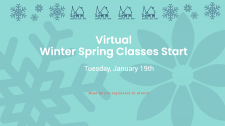 Virtula Classes Start January 19.
As you know Erie is the center for increased infections of the Covid-19 virus. The faculty met and we decided that for the Winter-Spring session in January and February we will only offer virtual classes.
Some teachers are choosing to provide lessons online through Zoom or video. We hope to start virtual classes January 19. On January 6 we will be sharing the classes through email and give you directions for picking up class packets of supplies for the specific classes that your child would like to choose. The situation is still fluid. Obviously we will not be able to offer all classes in this format. We will reevaluate our situation in March.
Thank you for your understanding, flexibility, and patience during this time. We are doing this with an utmost care for your child's and our teacher's safety. The Art House will be closed December 23 through January 4. If you have any questions please direct them to Lourdes Jasso 455-5508.