Art House Classes Go Virtual
Posted on January 19th, 2021 at 1:36 PM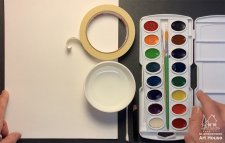 This week is the debut of the Art House's virtual spring class offerings and we've got lots of creative lessons in the fine and performing arts planned. Students signed up in advance for the classes they would like to participate in, and teachers created packets of materials for use with each class. Some teachers will be teaching live lessons using the Zoom platform while others chose to pre-record videos for YouTube.
Our virtual spring semester offerings include: Cardio, Dance & Stretches with Larisa Melodinskaia, Digital Photography with Lourdes Jasso, Baubles, Beads & Bracelets with Barb Hauck, Poetry with Luchetta Manus, Pastel Drawing with Mary Kay Geary, Drawing Together with Sarah Everett, Sculptured Painting with Leslie Ford, Drawing From Nature with Christine Bowler and Tree Art with Jonilee Hlusko. This will be a new format for us, and we'd like to thank teachers for their preparation and planning!
Music lessons, which have been taught remotely since last spring will continue as well.
We're looking forward to teaching our students in person again, but for now, we're working to make education in the arts accessible, fun, and as always, free, for our students in the safest way possible.
Additional Photos