Check Out Our Fall 2020 Virtual Open House!
Posted on December 9th, 2020 at 5:39 PM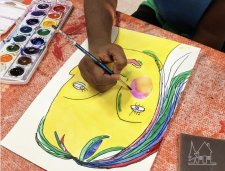 Our Fall 2020 semester has come to an end and we'd like to invite you to view the fantastic artwork, poetry and performances made by Art House students during this session full of individualized attention!
Typically, our Open House is a building-wide celebration of the accomplishments of students and teachers over the course of the semester. There's artwork displayed on the walls, in work spaces, laid out on tables, even the hallways become galleries. Families and friends fill the building. Students wait in costume to perform for a packed audience and then, when they're called, they share thier well rehearsed acts. It's a busy, energy filled night with a wonderful sense of community.
While we're looking forward to hosting our Open Houses in person again, we're realizing that there's a silver lining to hosting our first ever Virtual Open House: the ability to share this work with a much wider audience. We hope you enjoy this peek into our fall semester! To see slideshows from each class, visit Videos and Slideshows under the Gallery Tab or click here.