For the Birds
Posted on January 9th, 2018 at 5:24 PM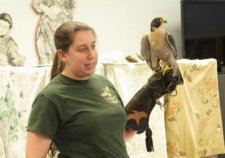 Did you ever hear the hoot of an owl or watch a swooping raptor in search of prey? The children could tell you about these majestic birds after educators from Tamarack Wildlife Refuge brought their "ambassadors" to visit the Art House. These birds are not able to be released due to their severe injuries. After a demonstration of how the rodent population would expand exponentially without predators, the students met Sophia, a barred owl; Lady, a peregrine falcon; and Jasper and Willow, screech owls with different colorations. They learned about the amazing vision of these birds, why owls can turn their heads almost all the way around, and that screech owls often live in the city to hide from their own predators.
Building on this interest in birds of prey, Susan A. Smith delighted the children with her picture presentation about Snowy Owls, a species that had been very rare in this area until recently. Susan, a well-known area bird expert, is often found leading birding treks at Presque Isle State Park, renowned as one of the richest birding areas in the US.
Further extending their learning about owls, the environment classes investigated owl diets by dissecting owl pellets. They were amazed to find the bones of small rodents, and even identified a full mouse skull.
Not to be outdone, one of the sewing classes had their own experience of birds of the creative category as they hand-sewed crows and then dressed them in jewels and finery that they created.
Additional Photos