News Around the House - End of Spring term!
Posted on May 15th, 2022 at 12:30 PM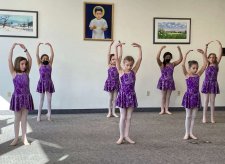 Your intrepid reporter here, to tell you of just some of the happenings here at the House of Art. Since the last report, the Spring term has come to a triumphant conclusion, and our Art House family gathered for an evening of art, dance, music, and snacks! Despite the best attempts of our fearless teachers, some of the more ambitious projects are on shelves still, awaiting the return of their artist creators next term to finish and polish them up. But the shelves are undeniably lighter and more bare, and the halls far more quiet.
The term has been another wonderful one - full of drama, joy, and triumph. Art is a messy business, but what it builds in our students, and in ourselves, is so much greater than the mess to be tidied up. We saw here growth in maturity, patience, humor and understanding, and not least, in artistic skill! This intrepid reporter became slightly misty-eyed looking over photographs from years past - to see kids come in as small and often timid seven-year-olds, and to see the confident teens and pre-teens they have become. Art feeds the soul in a way nothing else can, and no human should be denied education in the arts. As the intrepid reporter is fond of saying when asked how much classes cost here, "the Art House is free, because art should be free!" Of course, our classes are not really free, and so we are grateful beyond measure for our wonderful benefactors and sponsors who make this whole crazy program possible!
Oh! Before your intrepid friend retires for the evening, let me tell you about a wonderful way to spend a Thursday evening - that yours truly will be partaking of, and wishes you will be joining in the fun! Thursday sees a return of our always popular adult evening classes. One of our star teachers will be guiding you through creating your own acrylic masterpiece! Feel free to bring the beverage of your choice and maybe discover a brand new talent! Interested in coming? Give your reservation at (814)455-5508, and for the shockingly low price of $25 you too can claim the title "Master Artist"!
Additional Photos