News Around the house - Summer Solstice and Summer Classes!
Posted on June 13th, 2022 at 11:41 AM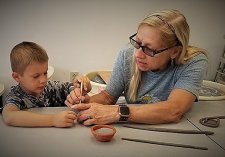 The news reports have slowed down, but the news has not, so your trusty friend, Intrepid Reporter, has roused herself from her sun-induced sleepiness, put down her lemonade and spy novel, and returned to the keys. As she types, the sounds of health and fitness filters through. The times for Dana Borczon's popular Tuesday fitness classes will change for the next five weeks. Instead of two classes, there will be one, at 8:30. Why? I hear you ask. Because starting on Monday, June 20th, our wonderful and youthful and ever energetic student artists will return for the start of summer session! We are so excited, and hope the animated fitness finders will not mind their earlier time too much! Alas, the Community Art Program's "Open Studio" will be on hold until the end of summer session. We will be certain to tell you when they return.
READERS! We are in need of lovers of the word, and of sharing this love with bright and eager young minds! If you are in the area of the Neighborhood Art House from 12:00 until about 12:35, we would love to see your bright and shining faces! The summer session runs the five weeks between June 20th until July 22nd. If you can do any or all of these dates, call Lourdes Jasso at the Neighborhood Art House ((814)455-5508), and give her the good news! She will give you the very simple details of becoming an official reader, and a hardy welcome to the Art House family! (fair warning though, those who enter our doors don't often want to leave them!)
Last Saturday was the Community Art Program's "Second Saturday" for June. It was a day of clay play - or perhaps playful clay? By all accounts that have come to the searching ears of Intrepid Reporter, the clay enthusiasts had a wonderful and edifying day. Last week also saw a drawing class by a gentleman who claims to be able to teach anyone to draw. He has one more class to accomplish this feat, so we will be sure to report on his success. Some pictures are here to give you an idea of the edifying fun.
On the horizon for the bustling Community Art Program is the Second Saturday for July. On July 9th, we invite, nay, demand, you and your friends and relations join us for a day of painting! There will be an opportunity to learn Asian painting techniques, or you can help plan and design a mural. Keep an eye on the Upcoming Events tab on our website (which you must know about if you are reading this now!).
Intrepid will be traveling from the Great Lakes to the Great Plains - ever in search of greatness (which explains her fondness for the Neighborhood Art House)! But as soon as she gets back and checks her sources, there will be a full report of all the tremendous goings-on of the first week of summer session!