News Around the House Art and Sole Edition
Posted on May 16th, 2022 at 5:03 PM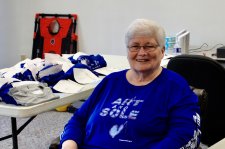 The intrepid reporter has been inexcusably silent of late. But not only is old intrepid back on the job, so is the great, never to be imitated, Neighborhood Art House's own "Art and Sole" - back in-person after two long years trapped in the virtual world. The weather was nearly perfect - not too hot, nor too cold. And though the clouds were threatening early on, the skies soon cleared and the sun came back. As the last art supply for the Community Art Program's "Second Saturday" workshop (that was happening at the same time, for a fun and festive fully packed Art House celebration) was put away, the first rain drops fell.
The intrepid reporter donned her press credentials and headed out to photograph the festivities (see some of her favorite below). No sooner had she taken some pictures of the beginning of the race and settled down to await the return of the first runners than the cry rang out that the first runner was coming down the road. Patrick Fleming ran those five kilometers at a blazing pace, clocking in at an astounding seventeen minutes and fifty-eight seconds. Following close behind, the top female runner, Rosie Williamson, clocked in at twenty minutes and thirty-four seconds. For the full run-down of race results, see this link: https://www.runhigh.com/2022RESULTS/R051422DA.html
After the big kids had their fun, the younger set got a race of their own - up to State Street, and back down to the Art House. They had an expert guide to make sure they didn't get lost - C. Wolf himself donned a pair of very big and furry sneakers to join in the fun. This reporter swears she saw at least one runner, Callen, in both races! Amazing!
The day also saw the return of two former directors of the venerable House of Art. Sister Annette lent her expertise, helping to get participants registered in what many agree was an incredibly smooth and easy registration process. It was hard to spot the second of our former directors though, as she had on her racing shoes, and though we are informed she was a "walker" made it back to the Art House finish line in less than forty-six minutes - easily winning her category!
After the running and walking, there was more fun to be had. There was rock painting, face painting, and sidewalk chalking! There was even a very large Jenga game, that soon attracted some very large kids. This intrepid reporter watched with growing amazement as their construction became higher and more wobbly. Eventually though, the laws of physics had their way, and the blocks came tumbling down. Well played, my friends, well played.
According to all expert opinions, many and profuse thanks are due to our wonderful sponsors! See the full list here: https://www.neighborhoodarthouse.org/A-S-post-event-page-2022. Without the sponsors, there could not have been all this fun and artistic fellowship! May we see all our old and new friends here next year, for the 2023 Neighborhood Art House Art and Sole Run/Walk.
Additional Photos