Painting Mini Masterpieces at the Art House
Posted on April 9th, 2021 at 11:56 AM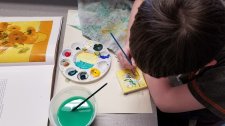 It's hard work to paint a masterpiece on a 3"x3" canvas! Art House teachers and students took on a challenging mission, to paint miniature versions of famous artwork for the Hoyt Art Center's Mini Masterpiece Competition. The Art House was on spring break this week and we spent Thursday, April 8th recreating paintings of our choice as part of an out of the ordinary workshop offered to all teachers and students.
Teachers met for a late lunch and painting session. It quickly became apparent that these canvases may be small but it's no easy task to paint them! We carefully added details, experimented with color matching and enjoyed each other's company.
Instructors Jonilee Hlusko, Mary Kay Geary and Sarah Everett helped students who elected to participate in the after-school student workshop create their own mini masterpieces as well. Many of us still need to finish our paintings, but they will be displayed on the Hoyt's website along with other entrant's tiny paintings before the end of the month. We enjoyed the opportunity to work together and gain a new appreciation for famous works of art through this new and challenging project.
Additional Photos