We're Back in Session for the Summer!
Posted on July 2nd, 2020 at 2:55 PM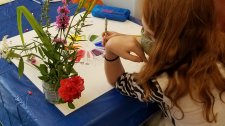 Each summer, the Art House offers an intensive five-week program that fills the building with energy, creativity and community. This summer, with social distancing rules, masks and careful planning, we're happy to say that we're offering a modified version of our Summer Session. Classes are structured differently, with fewer students and longer periods. As a result, students are intensively studying their art forms and creating some remarkable work. It feels good to be back together again!
Additional Photos