Working Together to Address Litter in Our Community
Posted on November 17th, 2020 at 4:46 PM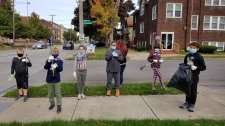 Pennsylvania Sea Grant invited Art House faculty and students to collaborate with Collegiate High School's Green Team and students from the JFK Center with the goal of reducing and eliminating litter in the local community.
Working in the neighborhood between State and Parade Street and from 8th to 12th Street, Instructors Pat Lupo and Lourdes Jasso helped students collect trash as part of the International Coastal Cleanup. Using iPads purchased with funding from UPMC Health Plan through the Neighborhood Assistance Program, the trash was cataloged and mapped using a program created by City of Erie Neighborhood Planner Erin Carey. Funding from Pennsylvania Sea Grant was used to purchase styluses to be used with the iPads. After the pick-up, students assisted with an audit of the trash, trying to figure out where it came from and brainstorm about ways to address the sources.
Further exploration included a Neighborhood Survey using a program developed by Michigan State University. Students walked through their target neighborhood, looking at land use, traffic and natural features and recorded their observations. Emily Fetcko, Assistant Director of the Erie Downtown Partnership visited with students to discuss their observations and explain the history and architecture of the area. Erin Carey and Marti Martz, Senior Coastal Outreach Specialist for Pennsylvania Sea Grant also visited with the class.
The Urban Litter Class will continue in the Spring Semester. In addition to exploring their community, students will have the opportunity to experience virtual field trips to local recycling facilities as well as the landfill. Throughout the class, students will continue to analyze their data and make concrete plans to address the issue of trash in their community.
Additional Photos